With the ASEAN Basketball League closing in to within less than one month, it seems like the perfect time to make a fool of ourselves and take a jab at predicting the upcoming season!
Early season predictions are pretty much pointless, especially when they are this early.
The ABL had announced that there will be nine teams this season and aside from clues here and there scattered across the beautiful landscape of the internet, we have yet to see the full picture of what each team looks like yet.
That's why there's no real point at predicting the events of the upcoming season. There's little to no chance that anything will go as predicted when about 90% of what you know about the teams are still unconfirmed.
BUT THAT'S WHY IT'S SO FUN.
Since we know little about the teams right now, we're able to let out imaginations run free. We can fantasize every little factor as ridiculous as we want. Because in the end, we're all just shooting a shotgun blindfolded at a target behind us.
The best part about these way-too-early predictions is when you return to see what outrageous comments you made. You get to gloat about how much of an expert you are if things went as you said, but you also get to laugh your asses off at your crazy expectations as well (see Tones & Definition's prediction of Paquiao Powervit Pilipinas Aguilas's 15 wins).
So join me in this wild journey now! Here's our Way-Too-Early ABL Predictions!
---
WAY-TOO-EARLY RANKING NO.1: Hong Kong Eastern Long Lions Sports Club
What We Are About 99.9% Sure We Know
Returning their three award winners Tyler Lamb, Marcus Elliott, and Edu Torres
Lost the "Long Lions" moniker to expansion team Nanhai, thus now becoming the most bland team name in the ABL
Christian Hardinger Signing as Heritage Import
Adam Xu Signing as Local Player
Josh Boone, who is playing for Melbourne United in NBL, will not be returning… at least until the NBL season finishes
Steven Guinchard will also not be returning, rumored to be played for Kinmen Kaoliang Liquor in the Taiwanese SBL
What We Think We Know But Not Really Sure Yet
Local MVP Candidate Fong Shing Yee not returning to the team… either that or he was just sick and couldn't attend the team photoshoot.
Bold Prediction
Hong Kong Eastern Sports Club will be the first team to repeat as ABL Champions.
This is a pretty wild take. No one in the ABL has ever repeated. What makes this Eastern Sports Club team so different that we can expect them to be able to win it all… again?
Returning Elliott, Lamb, and Torres definitely help, but the main factor is that Eastern were a historically great offensive team. Not much has changed from last season and even though the (supposed) loss of Fong Shing Yee is emotionally heartbreaking, Eastern should be able to find a way to cope with.
Chan Siu Wing and Lee Ki are still going to be in the backcourt that forced the most turnovers ever in ABL history. Lamb and Elliott are still going to be there to pounce the passing lanes and score like crazy. Can't we just consider Standhardinger an upgrade over Shing Yee and hope that Xu can produce something similar to what Guinchard did?
Other Less Bold but Still Ridiculous Predictions
Eastern will troll everyone once again and put in their 42-year-old trainer, Ryan Moss, as their World Import leading up to opening day before changing it to someone else at the last possible second.
Lee Ki will make 10 three-pointers in one game.
---
WAY-TOO-EARLY RANKING NO.2: Saigon Heat
What We Are About 99.9% Sure We Know
Signed new Head Coach Kyle Julius, after parting ways with Tony Garbelotto
Resigned Lenny Daniel and Moses Morgan for a 3rd season (Plot Twist: Saigon Heat announced that they wouldn't be returning Daniel only 3 days after flying him in for the ABL Press Conference. This totally throws this stupid prediction out of the window but hey whatever, life happens.)
What We Think We Know But Not Really Sure Yet
Resigning Stefan Nguyen and Horace Nguyen. I mean… can they really afford to not sign these two?
Signing Tam Dinh as a local. Sources say that this was actually accidentally leaked via ASEANSports already.
Either Chris Charles is signed with the Saigon Heat or he's just enjoying a vacation in Saigon, playing basketball at CIS Arena, and randomly enjoying early morning basketball sessions with Moses Morgan, Stefan Nguyen, and Kyle Julius.
Things We've Heard But Find Hard to Believe
Bold Prediction
It's a quite surprising feat, but this could actually be the first season in Saigon Heat franchise history where they finish over .500 in the standings.
If all the supposed signings really do happen, the Saigon Heat could be the only team to field a starting five of players with at least 3 years of ABL experience. Imagine a starting five of Stefan Nguyen/David Arnold/Moses Morgan/Lenny Daniel/Chris Charles with Horace Nguyen/Tam Dinh/Nguyen Van Hung to spell them off the bench.
Tony Garbelotto has already moved on to coach in the British Basketball League and taken over the Great Britain Head Coach position so he's doing pretty fine, but there might be some days when he watches the ABL this season and think "This is the team that I should have had last year".
Other Less Bold but Still Ridiculous Predictions
I'd have put "Coach Tony Garbelotto leads league in technical fouls", but he's not with the Heat anymore and I'm still leaving this here anyways in his tribute. You will be missed Coach Tony.
Lenny Daniel leads league in dunks and breaks down on the rims. My money is on the MABA Stadium rims.
---
WAY-TOO-EARLY RANKING NO.3: Mono Vampires
What We Are About 99.9% Sure We Know
Signed Paul Zamar as Heritage Import, as first reported by ASEANSports
Signed Jason Brickman as Heritage Import
Coached by Douglas Marty
Local players will be same squad that has played in TBL (Ratdech Kruatiwa, Kannut Samerjai, Chitchai Ananti)
What We Think We Know But Not Really Sure Yet
Signed Reggie Johnson and Mike Singletary as imports. I really don't have a counter for this and no solid evidence, but it just seems only logical for both sides.
Bold Prediction
It's probably not a bold prediction to say that the Vampires will be better than the last time in the ABL since it wouldn't be that hard to be better than that 3-17 team.
I'm going to be bolder and say that the Vampires we be a lot better. Think about it for a second. The Vampires have one of the best local line ups (completely biased) in the ABL, but they will be surrounding those National Team level players instead with proven ABL Champion imports like Brickman and Johnson is going to make this team so much better.
Add in a stud like Mike Singletary and a solid coach like Douglas Marty and it doesn't seem just as crazy to make such predictions.
Other Less Bold but Still Ridiculous Predictions
Jason Brickman breaks Froilan Bagion's All-Time Assists record. Brickman is still 345 assists away, which means he'll need to average 17.3 assists per game. It sounds batshit crazy, but if anyone's going to do it, it's Brickman.
---
WAY-TOO-EARLY RANKING NO.3: Alab Pilipinas
What We Are About 99.9% Sure We Know
Signed Jimmy Alapag as Head Coach
Resigned Bobby Ray Parks and Robby Celiz as local players
Resigned Lawrence Domingo as Heritage Import
Signed Ivan Johnson as World Import
Signed two former ABL Heritage Imports, Chris Sumalinog (WAIT WHAT) and Josh Urbiztondo, as local players.
Signed Paolo Javelona as local player
Late Update Part 2: Dondon Hontiveros and Rico Maierhofer have been signed by Alab Pilipinas and attended the ABL Press conference
Bold Prediction
Alab Pilipinas still has an extra World Import slot to fill in (and a Heritage Import slot that they do not look like they'll be using?). That signing could potentially change what we think about Alab, but as of right now, the team looks like they've made upgrades all around the roster which is why I'm expecting them to at least crack the Final Four.
Ivan Johnson is a clear upgrade on both Sampson Carter and James Hughes as is Alapag over Mcc Cuan. Celiz and Parks were two steady scorers for the team last season (despite Parks slight decline towards the end) and Domingo was a consistent contributor.
Alab Pilipinas had their ups and downs last season, but it seems like they are going in the right path of building a strong foundation for a successful franchise.
Other Less Bold but Still Ridiculous Predictions
There will be solid competition for the Local MVP award this season with more teams, but reigning MVP Bobby Ray Parks will be the forefront contender from start to finish. Parks spent the last season shouldering most of the scoring load, but I don't think he'll be expected as much this year. That's going to put him in more of a facilitating all-around role, which I feel he is better in. We'll see.
Alab Pilipinas will sign Val Acuna and he'll end the season as the 9th player in ABL history to play at least 100 games in his career. As Barney Stinson would say: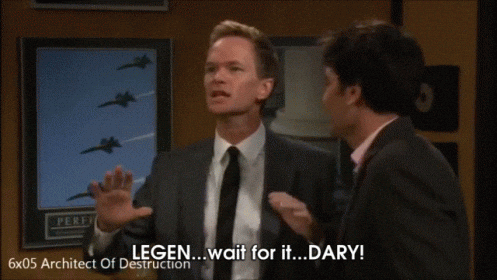 ---
WAY-TOO-EARLY RANKING NO.5: Singapore Slingers
What We Are About 99.9% 100% Sure We Know
Resigned Xavier Alexander as World Import
Replaced Justin Howard with Ryan Wright as World Import
What We Are About 99.9% Sure We Know
Ryan Wright is not related to Matthew Wright, even though both are Canadian and have the same last name. Just 99.9% sure though
Leon Kwek will be attending the Singapore National Service this year. It will be his first year in the Service. Delvin Goh will be attending his second year this season
Russell Low will be back as a local player
Bold Prediction
Retaining Alexander and (most likely) returning most of core of a back-to-back ABL Finals team would be great for any other team, but the Slingers are able to do it so often that it's become expected.
Those returnees certainly form a strong group and the expected addition/return of Russell Low will make them even stronger… but losing Justin Howard is a huge deal. For a team that's strived and succeeded so much by relying heavily on the big man, the process to replace him and get back into their groove is going to take some time.
Still, Wright is no pushover and the Slingers are good enough to still contend. They have only dropped this low in the rankings because of their expected turnover phase, the lack of a Heritage Import signing as of this moment, and the projected level of the overall competition.
The Slinger's lack of three-point shooters is also something that desperately needs improvement this year.
Late Update: According to The New Paper, AJ Mandani is currently on trial with the Slingers for the Heritage Import slot.
Other Less Bold but Still Ridiculous Predictions
With Justin Howard gone, Xavier Alexander can now become a full-fledged World Import MVP candidate. He's always been among the last remaining candidates in the past two seasons, but playing alongside another dominating player like Howard has always overshadowed his presence in consideration a bit.
---
WAY-TOO-EARLY RANKING NO.6: Nanhai Long Lions
What We Are About 99.9% Sure We Know
Signed Filipino-American Caelan Tiongson as Heritage Import
What We're Barely Sure About But It's The Best Guess Out There Right Now
There have been several clues to Justin Howard signing with Nanhai Long Lions. It started at first with a post of Justin Howard being picked up at the Hong Kong airport in an instagram posted with an #EasternLongLions hashtag. While it seems debunked that Howard will be playing with the Long Lions, rumors resurfaced again when Caelan Tiongson commented "okay big fella" on an ABL Instagram post about Howard.​ Both Tucker and Tiongson follow him on Instagram as well.
Like all rumors, it could mean nothing and Tiongson is just being friendly with a fellow athlete.
Bold Prediction
Since I barely know anything else about the Long Lions, placing them at 6th is pretty wildly bold.
I have no idea about the talent level of the local players, but if they truly will be fielding "CBA Youth team dropouts, College Players, and Young CBA players who have recently been cut" that should be pretty decent… right?
We're here to make stupid predictions and this is my stupid prediction. Live with it.
Other Less Bold but Still Ridiculous Predictions
Justin Howard will be the first player ever to break the 2K Career points mark in the ABL (currently at 1,548).
---
WAY-TOO-EARLY RANKING NO.7: CLS Knights Indonesia
What We Are About 99.9% Sure We Know
Signed Freddie Goldstein as Heritage Import
Recently parted ways with Coach Wahyu Widayat who had coached them to an IBL title and coached the National Team in SEABA 2017 and SEA Games 2017
Sandy Kurniawan and Mario Wuysang are signed as locals
What We're Barely Sure About But It's The Best Guess Out There Right Now
Duke Crews played for CLS Knights in their recent IBL season and the the former ABL import is expected to return to the club for the ABL
Not only is Crews expected to play, it seems like he might bring along another former ABL import and University of Tennessee team mate, Brian Williams. Williams posted on Facebook that the two would be team mates again early in September
Bold Prediction
I've learned the hard way to not doubt Mario Wuysang (see SEABA 2017 Thailand vs Indonesia), but I just don't know what to feel about the build of this CLS Knights team yet. Crews will be the glue guy to bond between his CLS team mates and Williams which should make the transition easier, but this is still going to be an adjustment to the level of competition for mostly everyone on the team save for Wuysang and Goldstein.
It's also going to be interesting to see how they work out the Wuysang/Goldstein backcourt with both being ball dominant guards. However, I can also picture Wuysang sliding into a more catch-and-shoot role like when he played alongside Stanley Pringle/Jerick Canada.
Other Less Bold but Still Ridiculous Predictions
With Sandy expected to be on board, along with Wuysang and Goldstein, the CLS Knights are going to lead the league in three-point shots attempted.
At least one "Knight in shining armor" pun will be made in a comeback victory
---
WAY-TOO-EARLY RANKING NO.8: Westports Malaysia Dragons
What We Are About 99.9% Sure We Know
NOTHING
Well, except for Chris Thomas coming back as the Head Coach
And their core of local players should definitely be returning
What We Think We Know But Not Really Sure Yet
The Dragons have signed Filpino/American Kyle Toth to be one of their imports in the local Malaysia Pro League (MPL) where they play as the KL Dragons Basketball Academy. Seems like pretty much a try out for the Heritage Import slot.
Bold Prediction
The Dragons' locals flashed great improvements during the past ABL season with more allocated minutes… but I expected to see more during their national team stints. Maybe I was just being too selfish or maybe I hyped myself up way too much, but it sort of felt like the core local players didn't really improve as much as I would have expected aside from Ting Chun Hong. We'll get to see if they'll make me eat my words when the season starts but the fact that guys like Kuek Tian Yuan, Wong Yi Hou, Ivan Yeo, Teo Kok Hou, and Chun Hong aren't playing the MPL also seems counter productive.
There's also the factor of the lack of news surrounding who their World Imports will be. With other teams opening up their books and warming their teams up, the Dragons still have their cards close to their chest. This could just mean that they are really, really, good at keeping secrets or it could also mean that the team is a bit behind in this certain area of team preparations.
Other Less Bold but Still Ridiculous Predictions
Kuek Tian Yuan is going to be the first local Malaysia player to average double-digit scoring this season. He had 7.1 points in 18.2 minutes in an injury riddled season. This will also put him in solid contention for the Local MVP award. I'm open to nickname suggestions right now.
---
WAY-TOO-EARLY RANKING NO.9: Formosa Dreamers
What We Are About 99.9% 100% Sure We Know
We know what their roster looks like since they had a whole press conference to announce it on the 11th of October
The roster includes World Imports Aaron Mollet and Waverly Austin
as well as Heritage Imports Filipino-Canadian James Forrester and Taiwanese-British Charles Barratt
Luo Jun Quan of the Kaohsiung Truth is back for another season!
Bold Prediction
Here's the problem with making these Rankings/Predictions. There's always going to be someone that ends up last.
Do I think that the Formosa Dreamers are going to completely suck? No,  I honestly don't. Austin is a huge body who is mobile enough to dive on pick & rolls effectively. The Dreamers should be an amazingly fun team loaded with dunkers like Austin, Mollet, Forrester, Barratt, and Chai Wei.
Maybe it's just the bad taste still lingering on the expectations I had from the Kaohsiung Truth experience last season.
The Dreamers local lineup seems to have more potential (like ex-Fubon Brave's Chai Wei and ex-KKL's Cheng Chi Kuan), but someone has to be at the bottom of the pile for now. If the Dreamers end up winning the whole thing by going undefeated for the whole season, I think I'll start considering to blog about food instead.
Other Less Bold but Still Ridiculous Predictions
Yang Tian You (170 cm.) and Luo Jun Quan (168 cm.) are going to be the two most fun players to watch this season.
---
So there you have it! That's my list of amazingly stupid predictions based on wild rumors and guts feel! What do you think? How does your ridiculous, preposterous, ABL predictions look like?