There's SO much basketball going on involving the South East Asia region, so I decided it was time to get off my lazy fat ass and write something about it!
Let's take a look at the Seri Mutiara Champions Cup 2016 which will be held in Kuala Lumpur, Malaysia!
Before we head into the details…I know I am behind schedule on the recap of Thailand's run in the FIBA Asia Challenge. AND the Merlion Cup in Singapore. I promise that I'll get back to that, but first … let me update on what's coming up RIGHT NOW.
The Seri Mutiata Champions Cup is held by NBL Asia and was held for the first time in September 2015. In last year's rendition, the tournament was already promoted as an International tournament", having hosted teams from the Philippines (Blackwater Elite) and Indonesia (Hang Tuah) in addition to the other 4 local Malaysian teams (906 Melaka, NS Matrix, Farmochem, and Malaysia Backup National Team). That alone was already an impressively held tournament on it's own, but things stepped up this year.
I got more involved in the Malaysia Basketball Tournament scene when PEA Basketball Club from Thailand joined the Penang Chief Minister Cup earlier this summer. This tournament was also held by NBL Asia. It featured a team from six nations (India, China, Chinese-Taipei, Thailand, Philippines, Malaysia) and it turned out to be quite entertaining as well. Seeing that sort of growth and how much interest it garnered, NBL Asia decided to not only limit their reach to Indonesia and the Philippines. They would reach out further. MUCH further.
This year's Seri Mutiara Champions Cup 2016 will feature a team from the Philippines, China, Chinese-Taipei, Philippines, Syria, Austrailia, and Croatia (!!!) along with two Malaysian teams. Here's the line up:
Guangzhou Securities (China)
Dacin Tigers 臺北達欣籃球隊 (Chinese-Taipei)
Blackwater Elite (Philippines)
Al Wahda Club (Syria)
Cockburn Cougars (Austraila)
Old Star Zagreb (Croatia)
NS Matrix (Malaysia)
Malaysia Selection Team (Malaysia)
Without considering the players on the rosters, being able to draw a group of international teams in one tournament is interesting on it's own.
**Personal Note** Initially, NBL Asia wanted to have a Thai team in the mix as well …  but things didn't work out.
The tournament format will start out with a group phase of 2 groups, followed by the top 2 teams of each group advancing to knock out rounds. All teams will play in placing games. The tournament will be held from 5-9 September (so this article might just be slightly late). There's also going to be a Slam Dunk Challenge (6 September) and a Three-Point Shootout (7 September) just to raise the entertainment level.
---
Players To Watch
I won't be doing a preview for each team because I don't have much of an idea who these teams are and there's not enough time. So instead, I'll just rattle of some names from the team rosters that I feel are worth taking a look at! That can be fun as well you know.
---
Al Wahda Club (Syria)
I'm starting with the Syrian Team because I know absolutely nothing about any of their players. Here's what I got via the amazing powers of Google though:
Al Wahda has 3 players who was on the Syrian National Team for the 2014 West Asia Basketball Association (WABA) Championships. One of those guys, Jamil Saddir, has his own basketball mixtape on Youtube which is not something everyone can say.
Other than that, they have some players who played on youth National Teams. But that's pretty much it.
Despite the Seri Mutiara Champions Cup 2016 not having a limit on imports, Syria doesn't seem to have one on their roster.
---
Cockburn Cougars (Austraila)
The Cockburn Cougers have the best name ever in the history of any basketball competition ever. They also have guys with great name to play around with like Guy "doesn't want to close his eyes" Arrowsmith or Mike "Crosoft" Excel. It seems like something that's just too good to be true.
GUYS, THEY ARE CALLED THE COCKBURN COUGERS.
That alone should have Twitter on a field day.
Notable player should be Matthew Adekponya who in addition to having a cool weird last name has also played in Portugal and Norway accoring to RealGM.
Seriously though … they are called the COCKBURN COUGARS. Moving on.
---
Old Star Zagreb (Croatia)
The only name that matters on this roster is Dino Radja. Yes, it's the same Dino Radja that played for the Boston Celtics in the early 90's.
I know he's 49-years-old. What's your point? The team is named OLD STAR for a reason.
I guess it will probably be fun to see what a 49-year-old ex-NBA player (who was on the All-Rookie second team in 1994) can still be able to do.
What's more amazing is that Radja isn't even the oldest player on the Old Star Zagreb roster. If the names on the roster are really who they appear to be in Google searches, the oldest player on the team should be Aramis Naglic who is just one year older than half a century.
Aramis Naglic isn't just any old dude though. He had an illustrious 23 year playing career before he started coaching and was on the 1992 Summer Olympics silver medal Croatian team.
---
Dacin Tigers 臺北達欣籃球隊 (Chinese-Taipei)
The Dacin Tigers are a club in Taiwan's Super Basketball League (SBL). They won their first and only championship back in 2009 and have never won again since, finishing 3rd place 4 times out of the past 6 seasons.
The team they are fielding here will be led by Chih-Feng Chang. Though he is already 35, Chang was the league MVP in the Tigers Championship run and he's won the award twice in his career. He's played on the National team before, as well as team mates on the Tigers here like I-Chieh Su and Ying-Li Yueh.
However, the most notable local on the team is probably Yi-Hsiang Chou who I've seen some fans refer to as the "Taiwanese Lebron James".
I can see where the resemblance is (pstt…it's the muscles) and while being compared to LeBron is a lot to live up to, Chou did a decent mimicry in the recent FIBA Asia Challenge when he averaged 13.4 points, 3.6 rebounds, and 2.8 assists for the Chinese-Taipei National Team.
The Tigers opted to bring only one import and that is 7'5″ Sim Bhullar who played a grand total of 3 games (2.7 minutes) in the NBA for the Sacramento Kings 2 seasons ago. Since then, Bhullar has played in two seasons in the D-League and might be looking to finally play overseas.
Bhullar had a decent collegiate career at the University of New Mexico State, making the All-Conference team in 2013 along with being the Newcomer of the Year as well. Though his parents are both Indian, Bhullar is considered a Canadian and has represented Canada in FIBA sanctioned competitions.
---
Guangzhou Securities (China)
The team from Guangzhou, China is sending a pretty young squad here to this tournament.
The first name that popped up for me was Ziming Fan, who starred at the FIBA Asia U18 Championship and was selected to represent the World Team at the Nike Hoop Summit. Not bad for an 18 year old kid. No other local big names aside from Fan on this team, other than three players who played for the Chinese Universiade squad in 2015 and Ju Mingxen who played in the FIBA World U19 Championship in 2011.
Guangzhou will have 3 imports in this tournament.
Alex Kirk isn't as tall as Sim Bhullar, but he's a 7 footer so size won't be a problem for Guangzhou. Kirk went undrafted in the 2014 draft, but signed on with Cavs where he played 5 games in the NBA but spent most of his time in the D-League. He played at the University of New Mexico during his college years.
Playing on the wing will be Ryan Boatwright who is more likely better known as the aggressive/athletic half of the UCONN 2014 NCAA Championship backcourt alongside Shabazz Napier. Boatright went undrafted in 2015 and jumped to play in Italy after half a season in the NBA D-League.
Finally rounding up the imports is 33-year-old Iranian, Samad Nikkhah Bahrami. Not only is he the first Iranian player to play in the French Professional League, Bahrami has already had 2 stints playing for Chinese teams.
---
Blackwater Elite (Philippines)
Hey! Blackwater Elite is back again! It seems like Blackwater Elite have formed quite a formidable friendship with Malaysia dating back to their participation in recent tournaments and the partnership with the KL Dragons to play in the PBA D-League.
Blackwater Elite elected to not have any imports in the Penang Chief Minister Cup last summer, but I guess the competition level in this tournament was too high to do that again. This time, they tabbed Nigerian Ola Adeogun who played for the San Beda Red Lions in the NCAA (Philippines).
Adeogun graduated since last year, and was close to playing for the MX3 Kings in the ABL last season, but Visa issues forbade him from doing so. Getting to see him in a Blackwater jersey will be an odd surprise.
Update: As of their first game, Adeogun wasn't on the gametime roster.
Art Dela Cruz should star for the Blackwater Elite, as he has shown in his rookie season in the PBA. Carlo Lastimosa should continue to shoulder the scoring load while Denok Miranda gives them a nice veteran punch.
Shej Roi Sumang, who was the Hero that hit the shot to clinch the Penang Chief Minister Cup title, is also back on this roster as well. (PS. LOWER THE VOLUME. YOU HAVE BEEN WARNED)
---
Malaysia Selection Team (Malaysia)
NS Matrix holds the rights (more on that later) to most of the top Malaysian Local players, so the "Selection Team" didn't really have much to "select" from. Still, the Select team still got hold of Ma Chee Khuen and Choo Wei Hong, a big part of the KL Dragons local rotation last year in the ABL. The teams main firepower will be their 5 imports.
Jerick Canada and Juami Tiongson have been with Blackwater their entire PBA careers and it's possibly through these connections that have led them to serve as imports for the Malaysia Selection Team. Christian Charles (Hitech Bangkok City) and Dior Lowhorn (Rain or Shine, Ginebra, Singapore Slingers, Saigon Heat) also have going aroung in the ASEAN region and this stint might foreshadow an extended stay in the South East Asia basketball scene.
Not pictured (but on the roster) is Chris Kuete. The Cameroonian started his professional career in Malaysia and been playing consistently in the area (also in Thailand and Philippines) since.
---
NS Matrix (Malaysia)
NS Matrix is loaded. They hold the rights to arguably 3 of the top 7 players in Malaysia with Kuek Tian Yuan, Wong Yi Hou, and Ivan Yeo (left to right).
If that wasn't enough, NS Matrix went out to get five imports to strengthen their team. It might seem counter-productive to the development of the Malaysian players, but this team wants the title.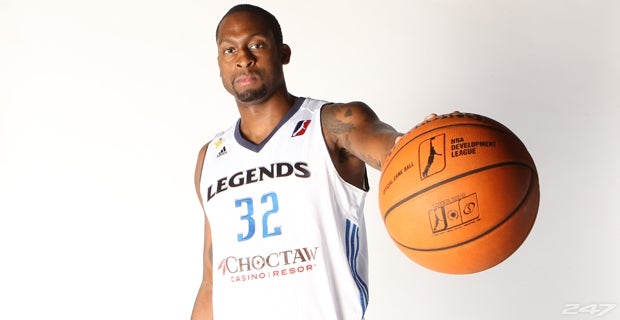 Darius Rice is probably the biggest name of the group. Rice was both a McDonald's All-American and a player on Team USA in the Nike Hoop Summit in 2000 and he averaged double digit scoring in all of his 4 years at the Univeristy of Miami. That didn't translate into the NBA career he had probably hoped for, but it did turnout to be a long professional career overseas. After playing 2 years in the NBDL, Rice went to play in Venezuela, Poland, China, Philippines, Puerto Rico, Uruguay, Hungary, Bahrain, Japan, Israel Macedonia, and Qatar.
Malaysian fans should be well-acquainted with Avery Scharer who used to play for the KL Dragons in the ABL 2 seasons ago. Scharer had recently wrapped up a season with OSK R-Airlines in the Thailand Basketball League and returns to South East Asia again. He's not coming alone as well, childhood friend Anthony Washington (33 years old) is also coming to play at NS Matrix with him. During his collegiate days, Washington played at the University of Washington for 2 years before transferring to Portland State for his final two years of eligibility.
Playing in the backcourt with Scharer will be Akeem Richmond, who recently has played in the NBA D-League the past two years. Richmond is a long range gunner who scored 18 points per game in his senior season at East Carolina where he got C-USA All-Conference Second Team.
Rounding out the import list is Christopher Putton, who I cannot find anything on unless he's actually an american football player.
The most intriguing issue with NS Matrix however, is with their locals. The schedule of this tournament clashes on the 9th of September with the FIBA Asia Champions Cup for Men's Club 2016 in China (which we will talk about later), which the KL Dragons are participating as representatives of the SEABA Region. The last day of the Seri Mutiara Champions Cup just happens to be the date of the first game for the KL Dragons in the FIBA Asia Champions Cup. This means that there is certainly a conflict concerning players like Kuek Tian Yuan, Wong Yi Hou, and others whose names are listed to play in both competitions.
It seems that the final verdict is that the players complete the Seri Mutiara Champions Cup first before joining the KL Dragons in China afterwards.
As far as I know, NS Matrix holds rights and pays these players year round while the KL Dragons pay them during the ABL Season. It certainly seems to be within fair play that NS Matrix would request their players to put their priority in this tournament.
However, the issue doesn't really lie in the matters of who owns who but more of the questions that are raised:
Should NBL Asia have arranged this tournament at this precise schedule, knowing that the KL Dragons would have to be participating in the FIBA Asia Champions Cup for Men's Club?
Wait … did NBL Asia even know that the KL Dragons were going to be participating in the FIBA Asia Champions Cup for Men's Club?
Was there any communication between them and the Malaysian Basketball Association (MABA)?
Was there any announcement by MABA concerning the Dragon's participation at that certain time?
Did the KL Dragons, who knew they had to participate in the FIBA Asia Champions Cup for Men's Club make an attempt to sign the players they would need beforehand since they know they don't have full ownership over the players?
In terms of development, are these Malaysian players better off playing on a team with 5 imports against a lower level of competition than on a team limited to 2 imports with a higher level of competition?
In the end, it seems like everyone involved is hurting from this unfortunate turn of events. But it's not everyday that the Malaysian Basketball scene gets to see an international tournament of this level. If it is an issue that is not productive for the development of the players, all sides involved should find common grounds which they can agree on.
The situation obviously has more depth that I want to dig into in this article and I don't want to ruin the mood of what has been a light-headed read so far … so let's move on and see how the situation resolves itself in the future! I just hope that Malaysia, as a nation with so much potential as a basketball country, can get things together for the better!
For more information and updates on the Seri Mutiara Champions Cup 2016, follow NBL Asia on Facebook.
Credits to Jordan Yap, a Malaysian Basketball Journalist, for the roster of each team.